submarine_bells
When Claude DePussy joined our household back in early 1994, he was a tiny little orange mite of a thing, so small that he could sit in the palm of one hand. Amiable and sociable, he enjoyed coming on car rides - he'd sit on my lap while Martindale drove, and put his paws up on the door so that he could see where we were going. I think Claude was the only cat I've ever owned who enjoyed going out to visit our friends with us.
Claude the tiny kitten matured into a vague, gentle, dopey cat. All he wanted was attention, and to be patted. To achieve this he'd wander optimistically around under our feet, then be all aggrieved when he inevitably got stepped on. But such trials did nothing to deter him - probably because he had all the alertness and intellectual capacity of a bowl of porridge. Martindale liked to imagine that Claude was so vague because he was Contemplating The Mysteries Of The Universe; for my part, he seemed more like a Stoner Hippie Cat: contented, friendly, laid back and not really in our reality. A common nickname for him, as he lay around snoozing on any convenient (to him) bit of floor, was The Plush Slug, and it suited him well. With his short but very dense orange fur, somewhat cylindrical shape, and tendency to just lie down in any spot for a nap, he resembled nothing so much as a fuzzy orange bolster someone had dropped randomly on the floor.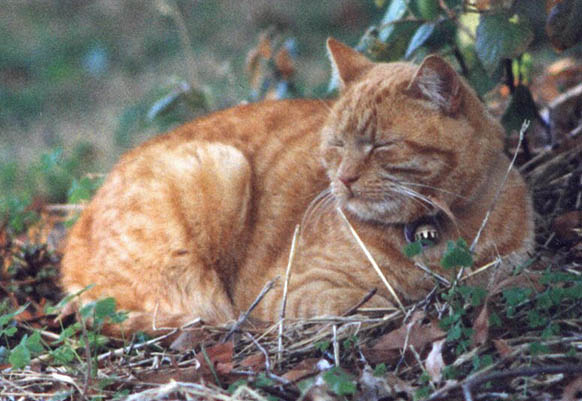 Mister Claude didn't have a mean bone in his body. All he wanted was to be friends. With
everyone
. When other cats occasionally took exception to his overtures and growled or hissed at him when he tried to snuggle up to them, he generally reacted with bafflement.
Claude had a couple of unfortunate habits, though. Most notable among these was the one that gave him his name: he
never
fully retracted his claws, and whenever he was picked up by someone for pats, he would cling on for dear life as if scared that they were about to suddenly fling him across the room. It was vanishingly rare to interact with Claude and not come away with some kind of accidental claw impression from him.
His other bad habit also made him less than ideal as a lapcat (which was a pity, because that seemed to be his life's goal). When he was relaxed and happy, he drooled. Like a tap. It was wise to have a box of tissues close to hand when giving Claude some affection, because once he started purring, copious quantities of gooey saliva were sure to follow.
He spent most of his life as an indoor/outdoor cat, coming in for attention whenever he wanted it and dozing in warm sunny spots in the garden at other times. As he got older and more arthritic it became clear that while Claude preferred spending a lot of his time outdoors, it wasn't really very good for him since he was no longer able to well defend himself against other neighbourhood cats. So we brought him indoors on a permanent basis. This led to coining of the term "Clauderwauling", and composition of the following little ditty, sung to the tune of "All Through the Night":
Very vocal noisy kitty
All through the night.
Can't sleep so I'm feeling shitty
All through the night.
Said I like cats; I'm a liar.
Imma set that cat on fire.
Contemplate his funeral pyre
All through the night.
Needless to say, I never did actually set him on fire. Over the next year or so I did, however, find myself pouring the occasional tumbler of water on his head when he insisted on performing his glass-cutting yowls at 4am because he was bored, or wanted company, or had gotten lost in the hallway(!) again.
Apart from his 4am serenades, Mister Claude settled into the indoor life pretty well. Because two of our other indoor cats (Miles and Ivan) didn't approve of Claude's move indoors, we wound up segregating the household - Miles and Ivan's retreat would be Martindale's bedroom, and Claude's retreat was the dining room; they'd spend half the time in their retreat, and alternating shifts in the rest of the house. It was a pain, but it worked just fine and they all seemed pretty happy with the arrangement.
Claude was pretty happy with all the extra attention that came from being an indoor cat. By this time he was getting pretty old and arthritic, and continued to get wobblier and slower-moving as time went on. However he was pretty robust apart from that, and the end came pretty quickly. He'd been having occasional convulsions - one every couple of months - since late last year. The vet had checked him over and was of the opinion that since the fits were infrequent and he had no other sypmptoms, there wasn't anything to be done right now beyond keeping a close eye on things. So when last week he had three convulsions within the space of a couple of days, we took him into the vet to be checked out. His blood tests showed signs of early kidney failure. At his age (19) it wasn't a huge surprise, but it was hoped that flushing out his kidneys on IV then putting him on a special kidney diet would help. Unfortunately he refused to eat the special kidney food... and then, it turned out that he was refusing to eat anything else. He continued not eating, even after application of appetite stimulant meds. At this point Claude was drinking plenty of water, but not peeing... so he went into hospital yesterday to go back on to IV in an attempt to get him to a point where he would be able to eat again. He was supposed to be in hospital for a couple of days, but I got a phone call from the vet this morning saying he was declining, and that it was time to end it. I called Martindale; he came home from work, and we said goodbye to poor old Claude. So very sad... he was just lying there in the crib, barely responsive and obviously in discomfort. He still nuzzled into our fingers weakly when we scritched him; and at one point while we were talking to him and calling his name, he looked up directly at us, and we could see that he recognised us. But yes, it was defintely time for him to go.
Goodbye, Mister Claude, the Plush Slug, Stoner Hippie Cat. We're gonna miss you.